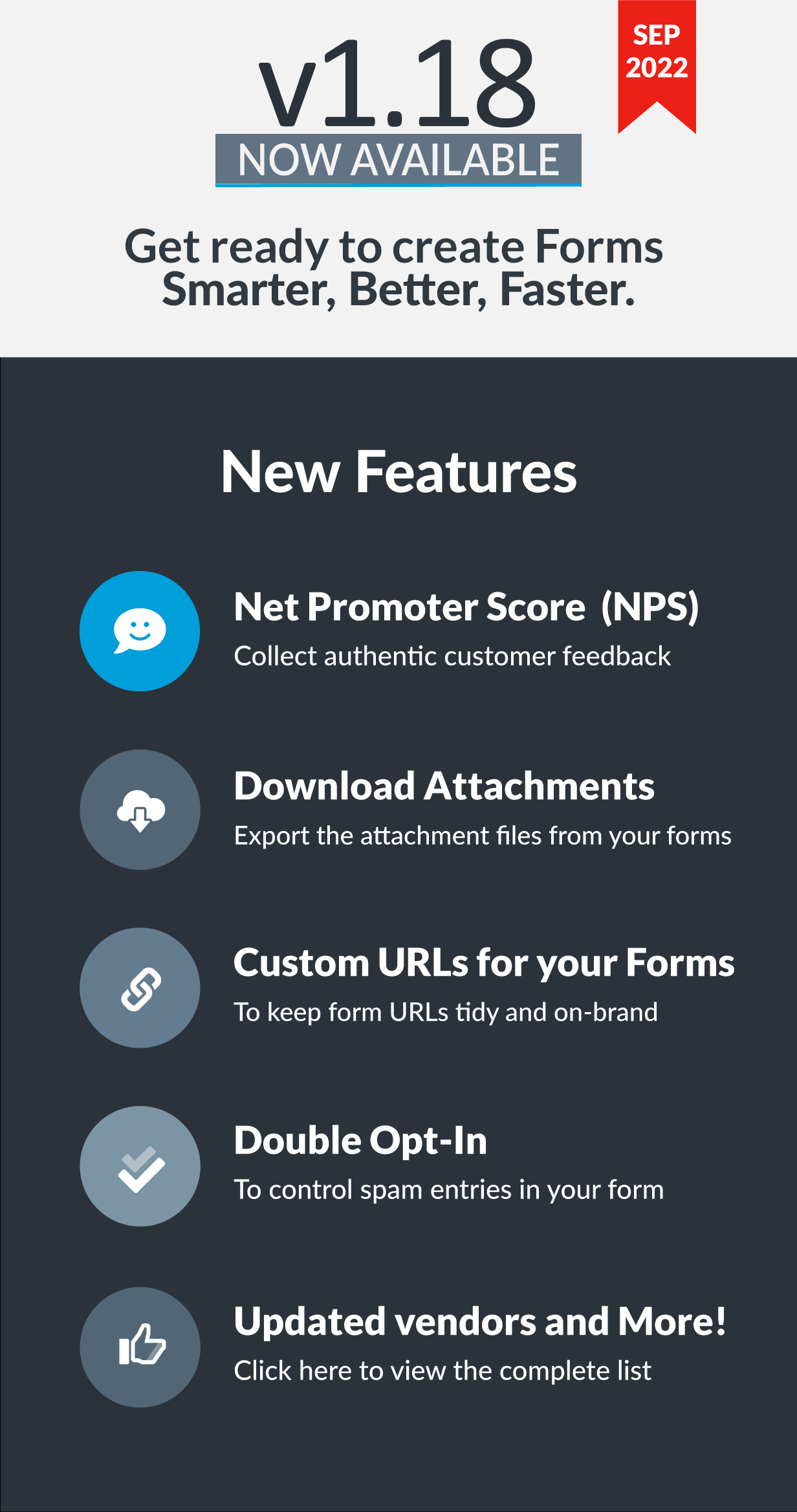 Easy Forms v1.18 is now available to download.
What's New?
1. Net Promoter Score Field (NPS)
NPS is probably the most important customer satisfaction and customer loyalty metric to track and now it's available in Easy Forms.
Easy Forms NPS helps you collect direct customer feedback to really get how your organization is performing. It's a way of recording what your customers think, their satisfaction levels, and whether they'd recommend you.
Ask them things like:
"On a scale of 1–10, how likely are you to recommend us to your friends?"
This gives you qualitative insight into 'why' your customers feel that way, which tends to work better than those generic annual customer satisfaction surveys.
Doc. | Net Promoter Score Field (NPS)
2. Submission Manager: Download Attachments
Are you looking for a quick way to download the attachments that came through with our online forms? Now it's possible, just go to the Submission Manager > Select a Date Range > Export > Download Attachments. Easy Peasy.
Doc. | Submission Manager: Exporting Submissions
3. Custom URLs for your forms
From now on it is possible to customize your forms URLs. By default, slugs are created based on the name of the Form, but now you will only need to go to Form Settings > Slug, to be able to edit it.
Doc. | Form Settings
4. Form Submissions with Confirmed Email addresses
Now you can see what form submissions are confirmed or not. Then, you can filter them by their "DOI Status" by using the Search Box > Select "Status: Confirmed".
Doc. | Submission Manager
5. Keep Field Values after Form Submit
Now you can keep the field values even when a form is submitted. Useful when you need to submit the same data, with a few changes, multiple times. This is possible by using the query string r=0 or by adding the option reset: 0 to the embed code.
Doc. | Form Widget > Disable Reset Form after Form Submit
5. Copy Field ID
If you need to customize the design of your form with CSS or create custom email messages, this tool will help you a lot. To copy the Field ID, you must go to the Form Builder > Click a Field > Click the 3 vertical dots (in the popover heading) > Click Copy ID. And that's it.
Doc. | Form Builder > Copy Field ID
6. And Much More!
Improved: Form Page without Login link when User Registration is OFF
Improved: Submission Manager: Delete Signature Images when a Submission is Deleted
Improved: Import Forms: Log exceptions
Improved: UI Widgets: Flatpickr. Customize Date Format via Custom Attributes
Improved: i18n messages
Improved: Dynamic Content. Allow integration with add-ons
Fixed: Min Length Validation
Fixed: Form Builder i18n messages
Fixed: Delete Form-Folder relation when Form or Folder is deleted
Fixed: Submission Manager. Search in Hebrew language
Fixed: SendGrid Integration: Email with "Reply-To" name and "Reply-To" email
Fixed: Rule Engine: Parse Text. Remove {{ tag }} that points to checkboxes
Fixed: Move forms to folders when app is in sub-folder or without pretty urls
Fixed: Design minor issues
Fixed: Incongruent alert message in the Create User page
Updated vendors